On Valentine's Day we want nothing better than to spoil our loved ones, smother them with kisses and bury them in presents. But that doesn't for one second mean we stop being stalwart adventurers of Taborea! We remain tireless in defending the innocents from the evils of the world.
Help your fellow adventurers during these times of distraction and temptation! Get +200% experience from quests and mobs, +500% talent points from mobs and a drop rate boost of +200% between 00:00 AM on 13.02.2020 and 11:59 PM on 16.02.2020 (local server time respectively).
Eve, Frank, Hilary and Owenstein can't wait for the chance to show Taboreans how much they love them during the Flower Festival. Visit them on the Central Plaza in Varanas (Channel 1). Exchange items as Valentine's Day presents for your friends and loved ones** between 13.02.2020 (after the server maintenance) and 20.02.2020 (the next server maintenance)**!
On 14.02.2020 make sure you check your mailbox – who knows? Maybe you'll find something there from your secret admirer!
Picture Competition: Romantic Gift for Valentine's Day

The Flower Festival is back with us, and many adventurers want to share a wonderful time with their loved ones.
In previous years, Taborea's heroes prepared a beautiful location and some delicious food – and now it's time to pick out a romantic gift! Who knows? This gesture of love might just be enough to earn you a fluffy present of your own…
Whether you plump for some perfumed flowers, a rare treasure of the deep, or a cute pet, the most important thing is that you find the perfect gift for the one you love! What are you waiting for?
Submit your entry to [email protected] by 11:59 PM CET on 23/02/2020, and be in with a chance to win the exclusive Guinea Pig Mount and further prizes!
Terms and Conditions
Your submission must meet the following requirements:
Up to 2 screenshots showing the perfect in-game gift.
A short declaration of love (up to 5 sentences) to accompany the gift.
The submission must consist of in-game screenshots. Real photographs and clipart are not permitted. Image editing software may be used to crop the images and add text.
The user interface should be hidden on the screenshots, and in particular chat messages and the usernames of third parties should not be recognisable. The user interface can be hidden using the keyboard combination CTRL + Z – or deactivate 'Show Player Names' from 'Functions > System (Esc) > Interface Settings'.
Each participant may submit only one email with screenshots.
Please use the following subject line for your email: Romantic Valentine Gift
Your submission must be sent to the following email address: [email protected]
Please send the email from the address associated with your game account. Provide your character name, server and account name.
Your submission should be in one of the following file formats: JPG, BMP, PNG, GIF, TIFF, TXT, DOCX, DOC, ODF, PDF
Maximum file size for images and screenshots: 5 MB
The additional conditions for participation in competitions apply.
Prizes
The five lucky winners can look forward to the following prizes:
1x Guinea Pig Mount (Permanent)
50x Badge of the Trial
1x Convenient Mailbox (7 Days)
10x Chocolate Sweetheart Cake Slice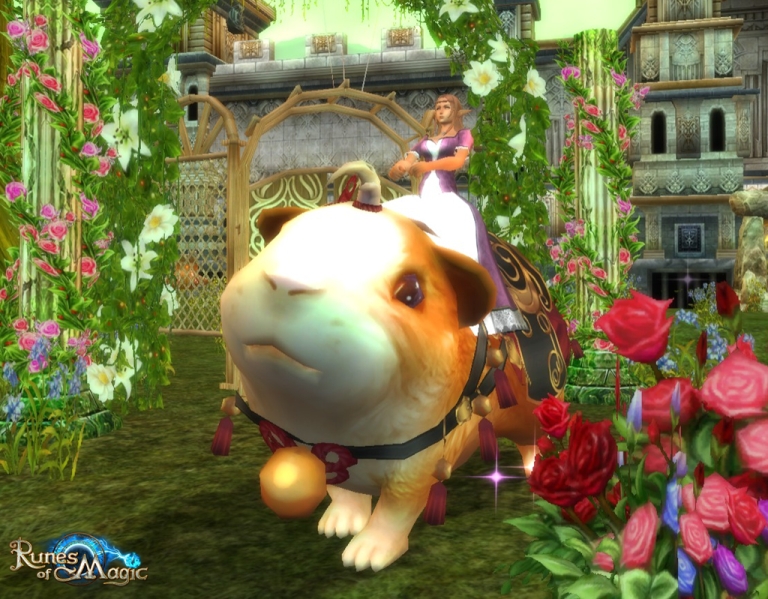 We will select the winners from among all valid submissions and present them in the forums and on social media on 02/03/2020. The winners will also be informed of their win by email.
Can you feel the love and affection in the air, adventurer?
The RoM Team